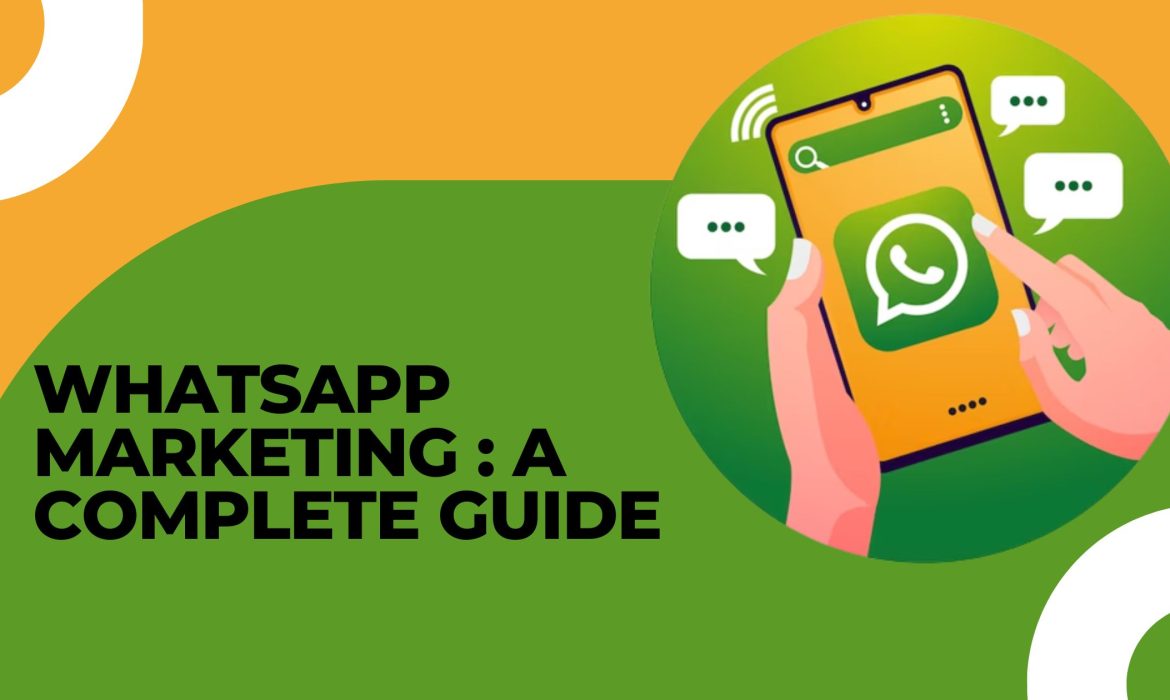 What is Whatsapp Marketing?
WhatsApp marketing means connecting with customers and promoting goods and services using the widely used messaging platform WhatsApp. Using consumer data and behavior, businesses may utilize WhatsApp to generate and send personalized marketing messages that are targeted to specific customers.
Additionally, WhatsApp Marketing enables companies to analyze the effectiveness of their campaigns, automate replies to frequently asked questions to free up customer service staff time to address more complicated concerns. Businesses may use WhatsApp as a marketing channel and to engage with clients more effectively and efficiently thanks to the WhatsApp Business API and WhatsApp for Business app.
What are the types of Whatsapp Marketing?
Businesses may engage with potential customers and market their goods and services through a variety of WhatsApp marketing tactics.
1. Promotional Marketing Campaign
These campaigns are employed to advertise a certain commodity or service. To entice customers to make purchases, they may provide discounts, exclusive deals, and other incentives.
2. Transactional Marketing Campaign
These ads alert clients to critical transactions or changes, such order confirmations, shipment updates, and account updates.
3. Customer Service Campaigns
These programmes are designed to assist customers and respond to their inquiries. They enable companies to rapidly and effectively reply to consumer communications and might incorporate automated solutions to frequently asked queries.
These efforts are intended to foster a feeling of community and boost engagement. In these, your clients may take part in surveys, polls, and other interactive material.
5. Lead Generation Campaigns
These programmes are designed to gather client data and create leads. They could have registration forms, contact forms, and surveys that users can respond to.
6. Abandoned Cart Campaigns
Customers are reminded of products they have left in their online shopping basket with these advertisements. They can include targeted offers and incentives to encourage customers to complete their purchases.
7. Re-engagement Campaigns
These ads are meant to reconnect with clients who haven't purchased from you in a while. In order to entice clients to come back and interact with your company once again, they may also contain personalized messages and exclusive offers.
8. Text-to-Join Campaigns
These advertisements encourage customers to text a keyword to a certain number to join a club or get updates in order to create a contact list.
These are only a few instances, and companies may combine and match various kinds of campaigns to meet their own requirements and objectives. The secret is to recognise your audience and modify your message accordingly.
What are the benefits of Whatsapp Marketing?
With only a few clicks and WhatsApp integrated into your complete marketing plan, you may swiftly and effortlessly connect with clients.
You may concentrate on consumer interactions with this sort of marketing, target campaigns for specific requirements, personalize messages, and follow discussions using analytics that can be utilized for more precise targeting and business expansion.
Ultimately, using this effective technique can result in more prospects for sales without wasting a lot of time or money on other approaches. The various advantages of using WhatsApp into your marketing approach are covered in depth.
1. Verified Business Account
By verifying their account using a WhatsApp Business account, companies may gain the legitimacy and confidence of their customers. Businesses may validate their authenticity by creating a verified account, which displays a green checkmark next to the company profile in the conversation. Customers can be more certain that they are speaking with a real company and not a fraud or fake account thanks to this.
Businesses may set up automatic answers with a WhatsApp Business account, which can help them become more efficient and save time. This is especially helpful for companies that get a lot of promotional texts.
Businesses may develop a catalog of their goods or services using WhatsApp Business, making it simple for clients to explore and learn more about what the company has to offer.
With pictures, prices, and connections to places where customers may purchase them, businesses can highlight their goods and services in the catalog. This can facilitate customers' buying selections and improve the likelihood that they will become paying clients.
When responding to frequent queries or client requests, businesses may save time by using WhatsApp Business's rapid answers feature.
Businesses may easily access and deliver pre-written communications to clients via fast responses. This can provide quicker customer service responses and enhance the overall customer experience for organizations.
End-to-end encryption provided by WhatsApp gives users confidence when corresponding with businesses since it keeps client data and chats private.
All messages, conversations, photographs, and data sent on WhatsApp are encrypted, ensuring the confidentiality and security of all correspondence between the participants.
How to create a whatsapp marketing strategy for your business ?
WhatsApp's extensive user base and its intimate, real-time communication capabilities make it an ideal platform for businesses to implement a successful marketing strategy. However, like any marketing initiative, a well-thought-out WhatsApp marketing strategy is essential for achieving your business objectives effectively. In this guide, we'll take you through the step-by-step process of creating a robust WhatsApp marketing strategy that will help you reach your target audience, boost engagement, and drive conversions.
1. Define Your Objectives
Begin by identifying clear and measurable objectives for your WhatsApp marketing strategy. Are you looking for Lead generation, increasing sales, enhancing customer support, or promoting brand awareness? Understanding your goals will shape the rest of your strategy and help you measure its success.
Recognise the communication preferences, issues, and pain areas of your target audience. Conduct surveys, analyze data, and gather insights from customer interactions to create buyer personas. This knowledge will enable you to tailor your WhatsApp content to resonate with your audience and foster meaningful connections.
3. Optimize Your Business Profile
Ensure your WhatsApp business profile is complete, accurate, and engaging. Use a professional business logo, provide essential information, and add a captivating business description. A well-optimized profile builds trust and credibility with potential customers.
4. Choose the Right Messaging Tone
Determine the tone of voice that aligns with your brand identity and resonates with your audience. Depending on your business, you may opt for a formal, professional tone or a friendly, conversational approach. Consistency in messaging tone is essential to maintain brand image.
5. Craft Compelling Content
Create engaging and valuable content that your audience will find interesting and shareable. Use a mix of text, images, videos, GIFs, and links to keep the content diverse and captivating. Address pain points, provide solutions, and showcase your products or services in a compelling manner.
6. Leverage WhatsApp Status Updates
WhatsApp Status allows you to share multimedia content that disappears after 24 hours. Utilize this feature to post time-sensitive offers, sneak peeks, event updates, and exclusive promotions. It encourages users to check your updates regularly and fosters a sense of urgency.
7. Run Contests and Giveaways
Engage your audience by organizing contests or giveaways exclusive to your WhatsApp subscribers. Encourage participation, and reward winners with attractive prizes. This not only boosts engagement but also increases your brand's visibility as participants may share the contest with their contacts.
8. Implement a Customer Support System
Offer prompt and efficient customer support through WhatsApp. Establish guidelines for response times and ensure your support team is well-equipped to handle inquiries. Resolving customer issues promptly enhances brand loyalty and encourages positive word-of-mouth.
9. Use WhatsApp Broadcast Lists Strategically
Segment your audience into relevant categories and use WhatsApp Broadcast Lists to send personalized messages. Tailor content based on the interests of each group to create a more targeted and effective marketing approach.
Monitor and evaluate the effectiveness of your WhatsApp marketing efforts on a regular basis. Utilize WhatsApp Business API or third-party analytics tools to gather data on message open rates, click-through rates, and overall engagement. Utilize these insights to continuously improve your plan.
WhatsApp marketing is using the platform to connect with customers, promote products, and offer various benefits. To succeed, define objectives, know your audience, optimize your profile, create engaging content, use features like Status updates and Broadcast Lists, and analyze performance. Ideastack can help you harness WhatsApp's potential for growth and customer engagement.
Frequently Asked Questions
1. Can WhatsApp marketing benefit small businesses and startups?
WhatsApp marketing is beneficial for small businesses and startups as it enables personalized communication, cost-effective campaigns, and direct customer interactions, contributing to brand awareness and customer loyalty.
2. How can I ensure my WhatsApp marketing messages are not considered spam?
To avoid being perceived as spam, focus on delivering valuable and relevant content, segment your contact list, and obtain customer consent before sending marketing messages.
3. What are the key metrics I should track to measure the success of my WhatsApp marketing strategy?
Key metrics to track the success of your WhatsApp marketing strategy include message open rates, click-through rates, conversion rates, response times, and customer satisfaction levels.
4. Can WhatsApp marketing replace other traditional marketing channels entirely?
WhatsApp marketing should complement and integrate with other marketing channels rather than replacing them entirely. Each channel serves different purposes and reaches diverse audiences, ensuring a comprehensive and effective marketing approach.